Saturday Stream Snapshot is back for 2021! We are looking for water chemical testing volunteers who are passionate about the health of our rivers and streams. By participating in collecting water samples from sites around the watershed or performing water chemical testing at our Water Quality Education Center you can take an active role in protecting the Little Miami.
No previous experience is needed to participate and training is provided. This is a great opportunity to gain experience in the field of water quality testing in a lab setting.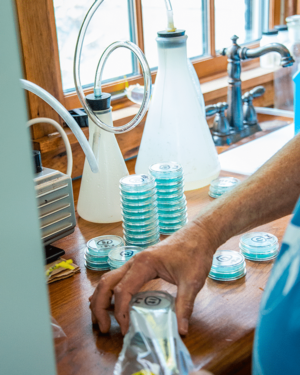 About
Saturday Stream Snapshot takes place on the second Saturday of each month from March-November. Water samples are collected by volunteers from around the Little Miami River watershed before 10:00 am on Saturday morning, and subsequent water chemical testing takes place at the Greenacres Water Quality Education Center from 10:30 am – 3:00 pm. Water samples are analyzed for pH, conductivity, turbidity, nitrates, total phosphorous, conductivity, optical whiteners, chlorophyll, and fecal coliform bacteria.
Do I have to volunteer every month?
No, volunteers do not need to participate every month. Water chemical testing volunteers will sign-up for each Saturday Stream Snapshot event in advance if they plan on participating. If you are unable to participate after signing up, please notify us as another volunteer may be able to fill-in for that collection site.
How big of a time commitment is volunteering for water chemical testing?
Water chemical testing begins at the Water Quality Education Center at 10:30 am on Saturday Stream Snapshot days. Depending on which chemical test you choose to perform, the test may be finished between 1-4 hours. If you have time constraints, please inform Emily Pickett and she can help direct you to a test that best fits your needs.
What ages can volunteer?
Volunteers ages 16 and up are able to volunteer with Saturday Stream Snapshot at the Water Quality Education Center. Volunteers under the age of 18 will need the consent of a parent or guardian to participate.
Can I get service hours with this program?
Volunteering with Saturday Stream Snapshot may fulfill school service hour/volunteer requirements. Please contact your school and Emily Pickett for details about if this program would meet your requirements.
Do I need any special equipment to volunteer?
No, all necessary materials will be provided to volunteers for both water sample collection and chemical testing.
How do I collect a water sample?
If you are interested in collecting water samples, please contact Emily Pickett. Emily will work with you to select a sampling site that meets your needs and will provide you with water sample collection training. Volunteers must have their sampling site approved and complete their training prior to collecting water samples.